Aaliyah Dana Haughton (born January 16th, 1979) was an American recording artist. She became a singer at an early age as well as showing signs of acting in her early childhood. She released her first album Age Ain't Nothing but a Number in 1994 after being introduced to R. Kelly several years prior. Though the album was a success, she stopped working with R. Kelly upon facing allegations of an illegal marriage.
She signed with Atlantic Records in 1996. She worked with Timbaland and Missy Elliott on her second album, One in a Million. This album made Aaliyah a huge star and is a defining moment in Aaliyah's career ,after continued success with her sophomore album, Aaliyah stepped away from public life to focus on graduating from high school. Aaliyah then worked toward starting her film career, making her debut in 2000's Romeo Must Die.
In July 2001, Aaliyah released her self-titled album Aaliyah. The following month, in late August, she left the United States to film the music video for the single "Rock the Boat". Though filming went well, on August 25, 2001, she was fatally injured in a plane crash while leaving Abaco Island, The Bahamas to return to the United States.
Sales of her self-titled album skyrocketed following the crash and it became critically acclaimed, just as Aaliyah herself was. Aaliyah has been hailed as a pioneer of R&B music and revered for making an impact during her short lifetime. Numerous artists have cited her as an inspiration and influence. Aaliyah is also known as the " Princess of R&B" and the "Queen of Urban Pop"
Aaliyah Dana Haughton was born on January 16, 1979, the youngest child of Michael and Diane Haughton. Gladys Knight, married to her uncle Barry Hankerson at the time of her birth, remembered the day of Aaliyah's birth. "I remember the day Aaliyah was born ... it was a great beautiful day. I was married to her uncle and she immediately became a special part of my life, and I became Auntie Gladys to that wonderful little girl. I watched her grow up, and, with the rest of the world, saw her achieve success with her very special and unique talents. From an early age, I knew she had enormous talents, and an intrinsic gift."
Though born in Brooklyn, New York, she relocated to Motor City at age 4 with her parents and older brother Rashad, who would later say they were best friends. She was by her own account a "popular kid" when attending Gesu Elementary, but was not exempt in going through an awkward stage. She performed from an early age; whether it was at talent shows, school functions or weddings.
Aaliyah said she started singing at age 6 and by the age of 8, knew she wanted to become a singer.[1] Aaliyah made her first televised appearance on Star Search at age 10 where she sang "My Funny Valentine" and lost the competition. Despite losing, she felt in her adult years that she should have won. When she and her mother found out about the auditions, she was given a private one and according to her brother, she sang "My Funny Valentine" everyday to prepare for the performance.
She had a good relationship with her elder brother all throughout her life, starting in childhood. Her brother said she would run around their home sining, but he would not be bothered because of her talent and he praised her for her voice. Their cousin Jomo Hankerson walked the pair home when their mother could not pick them up from school. Aaliyah and Rashad watched Knight Rider growing up and became fans of actor David Hasselhoff through it.[2]
Her uncle, Barry Hankerson was married to Gladys Knight, who Aaliyah traveled with and performed alongside her. Aaliyah at age 10 in 1989 began working with Wendeline Peddy. Peddy was a vocal couch and saw Aaliyah's development close up. She would say that Aaliyah as a ten year old knew exactly what she wanted to do. She worked with Aaliyah to ensure she remained an original and did not copy or sound similar to already-established artists. Peddy worked with Aaliyah after she was signed with a record company and also had a role in her first two albums.
Aaliyah lost her grandmother in 1991. She reflected of her grandmother's support of everyone in her family, in particular herself, who she always wanted to see sing. According to Aaliyah, her grandmother spoiled her and her older brother to death. These fond memories would lead Aaliyah to think of her grandmother whenever she fell into depression.[3] At a young age, she also lost her aunt. Aaliyah's hands reminded her of her aunt.
She was remembered as a "quiet child" by mentor Denise David-Cotton, who Aaliyah said guided her throughout high school. Cotton called her "polite, personable, conscientious" and added, "She knew her goals in life at a very young age."
Age Ain't Nothing but a Number

[

edit

|

edit source

]
At age 15, Aaliyah released her debut album Age Ain't Nothing but a Number. The album was produced by R. Kelly, who Aaliyah had met as a preteen. Aaliyah worked for hours with R. Kelly to perfect the songs; he would say at the time that she was one of the most talented young artists he had ever worked with. In February 1994, Aaliyah flew to Los Angeles for the Urban Network's Power Jam V conference. It was a gathering of record label executives, radio men, programmers and retailers. She received a warm reception among the men in power despite being relatively unknown.[4]
Aaliyah's first single "Back & Forth" went to number one on R&B charts by unseating R. Kelly's single "Your Body's Callin". Aaliyah would say that having R. Kelly on the single helped it get attention, adding: "Without him it would have been harder to get airplay. I'm just thankful for the break."[5]
Shortly after her debut album's release, rumors circulated that Aaliyah was romantically involved with R. Kelly. Both denied this, but Vibe magazine published a marriage certificate. According to the marriage certificate, they were married on August 31, 1994 in R. Kelly's home-state of Illinois. On the certificate, Aaliyah's age was falsely listed as 18. There have been allegations that she married without her parents' knowledge. It was reported by Jamie Foster Brown that R. Kelly had said when he and Aaliyah "got together", "it was just magic". She remembered hearing about her coming in and out of her home and that people had seen her walk 12 Play, R. Kelly's dog. She asked the label about their relationship and they would always claim it was platonic. She stated there were complaints that Aaliyah was alone in the studio with multiple grown men by herself. Brown added, "you have all those hormones and no brains attached to them."[6]
The marriage was annulled months later in February 1995 and Aaliyah and R. Kelly's professional and personal relationship came to a close. In a 1997 interview, Aaliyah said that the time of the allegations were tumultuous for her and her family.
In 2014, Jomo Hankerson said Aaliyah was "villainized" over her relationship with R. Kelly and there was difficulty over getting a producer for her sophomore album, with the exception of Jermaine Dupri and Sean Combs. Given Aaliyah's age, he was not understanding of the reason Aaliyah had faced criticism.
Aaliyah admitted in court documents she filed in May 1997 that she had lied about her age while seeking to have the marriage expunged because she was not old enough to get married without her parents' consent. Demetrius Smith Sr. claimed in his 2011 book The Man Behind the Man: Looking From the Inside Out that R. Kelly told him he thought Aaliyah was pregnant. Jamie Foster Brown also reported hearing this rumor.
Aaliyah was said to have recorded for her album with a group of men present and at only 15, this drew complaints, Jamie Foster Brown commenting, "you have all those hormones and no brains attached to them." Aaliyah's mother Diane Haughton said everything that went wrong with her daughter's life began with the R. Kelly relationship.
It was during the early years of her career that Aaliyah met Brandy Norwood. Norwood stated that she embraced Aaliyah when the pair first met. Norwood's brother Ray J would later say he met her several times.
Aaliyah released her second album, One in a Million on August 27, 1996. According to Aaliyah, she and her production team made the choice together to cut ties with R. Kelly for her sophomore album, feeling it would be a better move for her career.[1] Aaliyah worked with Timbaland and Missy Elliott on her sophomore album. Missy Elliott remembered being worried that Aaliyah would be a diva and was nervous about meeting her since she and Timbaland were just starting out in their careers while Aaliyah was already successful. Instead, Missy Elliott said, Aaliyah was warm to the pair and made them feel like family.
Aaliyah explained in a 1997 interview, around months to a year after the album's release, that she believed there was a change that had occurred in her vocally since Age Ain't Nothing but a Number. In the same interview, she was asked if the decision was made by her to break away from R. Kelly and begin working with Timbaland and Missy Elliott. Aaliyah claimed she had made the choice to do so and felt that she should have a different sound as opposed to presumably retaining a familiarity to her music when working with the same person (R. Kelly).
For nearly two years, Aaliyah disappeared from the public eye to focus on her grades and graduating from high school. She graduated from Detroit High School for the Fine and Performing Arts in 1997. That same year, she was featured in the debut single of Timbaland & Magoo "Up Jumps da Boogie". In March 1997, Aaliyah attended the Soul Train Music Awards, where The Notorious B.I.G. presented Toni Baxton with an award. This was the last time Aaliyah would meet The Notorious B.I.G., as he would be dead within hours from a drive-by-shooting.
On May 5, 1997, Windswept Pacific filed a lawsuit against Aaliyah. It was claimed by the music publisher that Aaliyah had illegally copied the Bobby Caldwell song "What You Won't Do for Love" for "Age Ain't Nothing but a Number". Aaliyah was a contributor the soundtrack album for Anastasia. She performed a cover version for the song "Journey to the Past" and earned its songwriters a nomination for the Academy Award for Best Original Song. She performed the song at the Academy Awards ceremony in 1998, becoming the youngest singer to perform at the event.
In 2000, she made her film debut in Romeo Must Die as Trish O'Day. She played opposite Jet Li. The film was released in March 2000. According to DMX, she personally approached him for his role in the film. She worked with him on the song "Come Back in One Piece" and the two filmed its music video together. DMX would say he had the honor of bring her into "the hood." Aaliyah was satisfied that her first film role was similar to her in some ways and felt that everything went to together in how she had planned to make a debut and the role became available. Aaliyah had hoped that viewers of the film would be able to get lost in it as well as her character.
For Romeo Must Die, Aaliyah recorded the song "Try Again" along with its music video, which featured her costar Jet Li. Aaliyah at that times reflected on her previous two albums, feeling she had grown up since then, also speaking on her previously being told that her song "One in a Million" had helped a young man ask out a girl, as disclosed by him, of which she felt proud and added, "when my songs can inspire somebody like that, that just makes it all worthwhile."[7]
The film was met with praise by The New York Post who called the shifting of Aaliyah's role from being a killer to expressing her emotions a "revelation". It has been said that she filmed a scene where she kissed Jet Li which was later edited out by Warner Brothers, as it was speculated there would not be a positive reaction to Aaliyah kissing someone (Jet Li) that was sixteen years her senior.
Aaliyah in 2000 filmed her role in her second film Queen of the Damned. Aaliyah was the biggest star of the film and as Michael Rymer claimed, "people went to see her." Rymer remembered her doing hard work to perfect the role, as she worked closely with an acting couch for a month and then with a speech couch, meeting the couch in New York. While filming in Australia, Aaliyah worked with a personal trainer due to her revealing outfits worn in the film and a stunt coordinator due to her flying scenes. Aaliyah called the role her "dream role" and expressed that she loved Egypt and vampires. Shooting took place over four months.
In an interview, she was asked by if she was interested in costar Vincent Perez. Aaliyah said he was happily married with two "beautiful" children, denying she would make any advances towards him. The film was released in February 2002, six months after her death. There was some question over whether or not the film would be released given that a lead had passed away, but it was decided that it would be released. The uncertainty over whether or not the film would be released is similar to the uncertainty the "Rock the Boat" music video underwent following Aaliyah's passing.
Following her graduation from high school the previous year, Aaliyah began recording what would be her third and final studio album in 1998. Though the album, self-titled and named Aaliyah would ultimately be released in 2001, it would have several intermissions that would halt its completion for roughly three years.
Right after recording a series of songs, Aaliyah went on hiatus to film her scenes in Romeo Must Die. Despite completing filming of her role in Romeo Must Die, Aaliyah was again sidetracked by Queen of the Damned, having to act in the film at day and record the album at night. Aaliyah reflected that there were nights she did not enter the studio due to her exhaustion, but she always made it to the studio during the weekends.
On the album, she worked with Timbaland and Missy Elliott, who made a return from One in a Million and was joined by Static Major. Missy Elliott credited Major with being part of the "bridge of Aaliyah growing lyrically". Aaliyah discussed lyrics on the tracks of the album with Static. Her uncle Barry Hankerson stated that the two depended on each other. She also had exchanges with Bud'da about the album's sound and musical direction. It was during this time she had developed an interest in the UK garbage scene.
Aaliyah intended to finish recording the album by the end of 2000 while having also completed her scenes for Queen of the Damned. She finally finished recording it in its entirety in March 2001. Around the time of its completion, she traveled to Australia, where she did a photo shoot for the album with photographers Jeff Dunas, Jonathan Mannion, David LaChapelle and Albert Watson.
In Australia during the photo shoot, Aaliyah developed an affinity for snakes. Her opinion regarding them was that she found the reptiles to be "dangerous, but quite beautiful" and also felt they served as a representation of her album. They were featured prominently in the music video for the single "We Need a Resolution", filmed the following month in April 2001. In speaking with MTV, Aaliyah revealed how she related to snakes.
They live in solitude, [and] there are times in my life [when] I just want to be by myself. There are times I can't even figure myself out. I feel they are very complex creatures, [but] at the same time, they're sexy, too. That's why they represent Aaliyah pretty well.
Her singles "More than a Woman" and "I Care 4 U" were released posthumously in November 2001 and April 2003. "I Care 4 U" was recorded for One in a Million and did not see release until seven years after the album's release. The previous year, it had been released as an "album cut" in June 2002 and charted for 20 weeks on the Hot 100 Airplay (Radio Songs). Four months after debuting as an "album cut", "I Care 4 U" peaked at number 16 on the Billboard Hot 100 in October 2002, spending 20 total weeks on that chart as well. It was joined by "More than a Woman" and "Rock the Boat" in giving Aaliyah a strong presence on the radio following her death.
Prior to the release of "I Care 4 U", the music video for "More than a Woman" premiered in January 2002. The music video did well internationally, being ranked by the British public as "Best Video" and receiving an award at the 2002 UK MOBO Awards.
It was after her passing that there was a reevaluating of the album. In Aaliyah's lifetime, it's sales were alright but diminished after its release in July and stood at over 447,000 copies having been sold. The day her death was reported by news outlets, the sales saw a 41.5% increase from the previous week. Within the next week, it went from number nineteen to number one on the Billboard 200. Aaliyah became the first recording artist since John Lennon to have their album climb to number one posthumously since his 1980 album Double Fantasy.
Aaliyah had the vocal range of a soprano. Her debut album was marked by a series of hard beats over her soft voice, leading to the use of the term, "Street but sweet." R. Kelly on her debut album tried to give her a tone that was particularly reflective of this.
Many of Aaliyah's songs were marked by love, but never delved into disliking of men overall. It is known that despite her performances, the songs were not based on any aspects of her own life since she never wrote any. This does open the field for the songs to be considered to have had potential inspiration from their creators. Aaliyah was questioned several times if her songs were based on personal experiences of her, to which she always denied.
Aaliyah's age rarely got in the way of her singing apart from the possible exception of "Rock the Boat". According to a few accounts of the song's creation, it was written roughly two years before being selected for third album but Aaliyah was held off from recording it because Virgin Records did not feel she was old enough or mature to the degree of a song with lyrics that were as sensual as that of "Rock the Boat".
Another song which featured question brought towards Aaliyah's age was the title track for her debut album Age Ain't Nothing but a Number. It was in this song, which features a female trying to get with a young man slightly older than her and turned off by the age difference, that there became whispers of a relationship with R. Kelly and this was furthered by him having been the writer of the song. R. Kelly recounted his first meeting with Aaliyah in an interview and her having said the song's name to him, much to his need for clarification.
It was with songs such as "Rock the Boat" and "Age Ain't Nothing but a Number" that limitations were made with Aaliyah's age. This was coupled with her first collaborator, R. Kelly, who had made multiple songs discussing intimate relations and mature themes. With Aaliyah's age (15) thrown into the mix of his mature style of writing along with her soft voice, there was an opposites attract element to the songs he had written which she performed on her debut album.
Much of the songs written for Aaliyah in the latter part of her career did not face the same troubles due to her growing up and becoming an adult with each passing year. Her maturity would rise as she sang "Are You That Somebody?" and "Loose Rap" which explored interests in the opposite sex but with more commercially-acceptable lyrics that allowed for softer interpretations that allowed her to be more relatable than she had been in the past. There was a sense of maturity still retained in the lyrics and tones of the songs, but with acknowledgment that she was very young and not able to fully grasp what awaited her as an adult.
Several commentators have expressed their view, especially when reviewing her third album, that Aaliyah remained consistent in singing on beat. Her voice was said to match the overall tone of many of her songs, typically the later ones accompanied by beats from Timbaland. This was part of a chemistry between the two musically. This was part of the new sound Aaliyah found after her break from R. Kelly in her latter two albums as well as the singles released in between the five year gap of One in a Million and Aaliyah. Later releases such as "Enough Said" have been said to be missing something with the lack of his presence.
Cousin Jomo Hankerson said of Aaliyah's singing talent, "I think on the outside she just had a kind of charisma where you had people that could belt it out harder than she could, or that had vocals that seemed more dynamic on the surface, but Aaliyah had a kind of charm with her voice. It was a jazzy, sexy, smooth kind of thing and I think that's what people gravitated to. Her uniqueness. She really took the craft of making music seriously. There was never a doubt to me and my dad that she would be a huge success because she had the passion for it."[8]
Aaliyah was influenced by a variety of performers. This included Michael Jackson, Stevie Wonder, Sade, En Vogue, Nine Inch Nails, Korn, Prince, Naughty by Nature and Johnny Mathis. Michael Jackson's Thriller was her favorite album and thought nothing would ever top it.
Aaliyah was inspired by Janet Jackson. All her career she hoped to collaborate with her and was happy to hear that Jackson had spoken positively of her. She tried getting a collaboration done with her on the self-titled album, but it did not come to pass. Jackson spoke positively of Aaliyah following her passing and said she would have loved to work with her. The two were label mates, making a potential collaboration even more possible. There was a comparison made between the two during the early years of Aaliyah's career and it was noted by a commentator that Aaliyah was younger than Jackson, which the commentator argued was their reason for believing that she would have been able to improve and potentially become a better singer than Jackson.
Aaliyah also liked Britney Spears.
Aaliyah admitted that she never wrote any of her songs. Despite this, she served as the executive producer of her third album. She wanted dark tracks on the album to reflect her, which saw the creation of many of its songs, primarily written by Static Major.
She was marked by a tomboy appearance her entire career; She often was seen wearing clothes that would not distinguish her from having a masculinity not present in other female artists. This was reflective in her early personality as she revealed in an interview, she only worse skirts and dresses when going to church and it was not until the ages of 18 and 19 that she started to not mind some femininity. She even reflected that at the time of her first two album's release, she was a "little boy" back then.
Aaliyah's original appearance was marked by a pair of shades which added to a mystique that she had hoped to convey. She often wore baggy clothing during the early years of her career. According to a biography on Aaliyah, she stopped wearing baggy clothes when she looked at herself in the mirror and thought she resembled a large child.
Though she was never involved in any serious feuds, there apparently was some dispute between Brandy Norwood and herself. Aaliyah commented on this during a 1995 interview for her sixteenth birthday. In the future, she would never acknowledge any artists or individuals being against her, which added to her public image as a maturing young woman, having the desire to not be looked at in a negative way because there was nothing negative about her. Lil' Kim, a collaborator of Aaliyah's and an artist who had been involved in several feuds herself, would even say after her passing that she could not say anything bad about her.
In the later years of her career, Aaliyah was often seen with hair which covered her left eye, similarly to Veronica Lake. The look was similar to her first in that it continued the mystique she sought to convey but also added to her sex appeal. Aaliyah became a sex symbol during her adult years and did not mind being considered one. "It's wonderful to have sex appeal. If you embrace it, it can be a very beautiful thing. I am totally cool with that. Definitely. I see myself as sexy. If you are comfortable with it, it can be very classy and it can be very appealing."[9]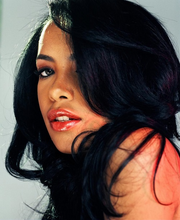 Aaliyah's hairstyle, which hid an eye, has now became a trademark of her appearance and the look is arguably more associated with her than Veronica Lake. In September 2012, Kim Kardashian posted an image of herself on Instagram, with an eye hidden by her hair, and linked to it on Twitter, tweeting "Aaliyah hair today".[10][11]
Both the change in hairstyle and sex symbol status added to her changing as a person and her growth since her debut almost seven years before the self-titled album. She tried reflecting this in the music video for the single "We Need a Resolution". The song itself, already on the topic of a mature, sexual relationship was marked by its music video, which in some scenes depicted Aaliyah singing in a black dress. According to staff involved with the music video, she had chosen this to reflect her growth as a person.
There were talks that her hairstyle hid a lazy eye, which proved to be false. Aaliyah found the rumor to be humorous and allowed it to go for some time before finally dismissing it in an interview. She enjoyed having her hair that way, as she explained and seemed understanding of the misinterpretation and how the rumor was found reliable.
Aaliyah has been compared to fashion icons and actresses, despite her short film career. These include the likes of Marilyn Monroe, who Aaliyah never commented on nor acknowledged a similarity to. Monroe was an actress, active in the 1950s and early 1960s and like Aaliyah, is regarded as a sex symbol. The comparison was made in the music video for the single "Rock the Boat" during a documentary aired in 2014 for the release of her biopic when there was discussion of the "Rock the Boat" music video, particularly the closeup scenes on Aaliyah's face while she and other dancers perform on a boat and appear periodically throughout the video.
Aaliyah was well known for her fluid dancing and considered as a great dancer during her time. Aaliyah used this skill in her music videos for many of her songs. She was featured several times during the music video for "We Need a Resolution" dancing. In the "Try Again" video, she made use of reflections as part of an allure she gave off to viewers.
Aaliyah was seen as being taller in her music videos than she was in real-life, as expressed in an interview. Her height was five-foot, seven inches (5'7).
The filming of the music video "Rock the Boat" was documented. During the video, she was seen speaking with several members of her crew. Some of them would be involved in the fatal plane crash that was to occur shortly after the music video's completion. She was seen as being reminiscent of older celebrities in the "Rock the Boat" music video.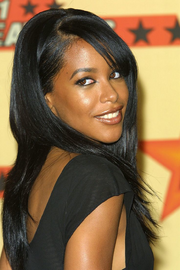 Aaliyah enjoyed taking baths. She would listen to music while bathing. In the event that she could not bathe, she read novels from the Harry Potter series. She was known to have been on the second book by 2001 and the film for the first novel was released three months after her death in November 2001.
Aaliyah identified herself as a dark person and felt her third album, Aaliyah, reflected her as an individual. She had even asked collaborator Timbaland and others involved in the album to make sure the tracks were dark. Aaliyah was also fond of the color black since her favorite outfit was this color.
When asked what it takes to "seduce" her, she said she liked someone that could make her laugh and that she and her family and friends liked to "just be silly" so she needed someone with a good sense of humor and joked, "it wouldn't hurt if he was really cute too". In another interview, she was asked what kind of men she was into. She responded: "I like really silly, funny people. Everybody that I hang with knows how to laugh and just all out be crazy so I like that and people that can just appreciate someone staying at home and kicking it."
Refusal to discuss personal life
[
edit
|
edit source
]
Aaliyah was against discussing her personal life and despite claiming to understand it "comes with the territory" for an entertainer to have their private life become the subject of media attention. This distaste for media attention is consistent with many other musicians and individuals with a public career who have voiced their dislike for the media becoming interested in what they do apart from their work.
Aaliyah also was known for having low profile residences and was not known by most to live where she did during her residence. Aaliyah's apartment was later put up for sale by her family, who have taken a similar view to her and do not allow for much of a public life since she passed. Aaliyah's funeral was private with the presumption being that it reflected her wish to maintain as much privacy for herself as possible.
Others have tried to understand and justify her way of viewing a public career. It is to note that Janet Jackson and Whitney Houston, two of her main influences, were noted for their private lives which were covered extensively. This was a contrast she had with the pair. "She didn't want to use her private life to sell her work; she wanted her work to speak for itself," Vibe editor-in-chief Emil Wilbekin said. "She reminded me of an old Hollywood entertainer—very glamorous, very mysterious. She had potential to be the next Whitney, Madonna or Jennifer Lopez."
Main article: Family of Aaliyah
She was close to her immediate family, as well as the Hankersons. Barry Hankerson would later say that he started Blackground Records for the sole purpose of making sure her career was successful. In July 2001, during the MTV Diary recordings Aaliyah agreed to take part in for promotion of her third album, Aaliyah was on camera with her elder brother during a few scenes, where she gave her opinions on his dating life. This is one of the few times on camera that the pair can be seen interacting. Rashad Haughton said the two were best friends and that she had made him come with her to receive her award at the 2000 MTV Video Music Awards despite his belief that him accompanying her was not necessary.
Aaliyah stated in an interview that she wanted children, preferably two and this was echoed by best friend Kidada Jones, who said the pair spoke regularly about wanting to start families. Aaliyah's father Michael Haughton died in 2012. He was buried next to Aaliyah. Her family was adamant in its refusal to allow the release of her music for Aaliyah: The Princess of R&B, the television biopic of the singer's life, issuing a statement where they called her an icon and stated that she deserved more than a representation on television.
Main article: Personal relationships of Aaliyah
She was friends with Timbaland and Missy Elliott, having built relationships with them through their work. Timbaland admitted in 2011 that he was in love with her, but would not act out on his feelings due to the age difference between the two and tried to take on a brotherly role. After Aaliyah died, Missy Elliott got a painting of her done in her home as a tribute to her late friend.
Aaliyah met Destiny's Child around 1998 in Los Angeles and though the group was intimidated about meeting her, they became friends with Aaliyah. Beyonce would later say that she was the first person to support the group.
By the time of her death, she had been best friends with Kidada Jones for five years. They made prank calls together to "public establishments" and were planning on starting a clothing line together before she died. She and Jones prank called Jone's father Quincy Jones and convinced him that Aaliyah was Christina Aguilera after she sang for him.
Over the summer of 2000, she met Damon Dash through an accountant. Dash's account of how their relationship started was due to her understanding him and finding him humorous. Just two weeks before the crash, Aaliyah went to visit him in the home he shared with Jay-Z, who she was also friends with. Aaliyah publicly denied having any romantic relationship with Jay-Z, as well as Ginuwine but would not disclose the relationship between her and Damon Dash in an interview in 2001.
Speculation of Aaliyah and Dash being romantically involved came about after he was seen walking her to the bathroom at a party she threw for him in honor of his thirtieth birthday. According to Dash, the couple had plans to marry before Aaliyah died. She never spoke publicly about the relationship and Dash only revealed their marriage plans after her death, leaving the truth to never be fully known.
Dash has remained vocal about his fondness for Aaliyah and his overwhelming grief at her death. In addition to Dash, his son Damon, Jr. met Aaliyah as well and she was popular amongst his cousins who were in their early youth at the time she was in a relationship with him because of her interest in video games and cartoons. She was able to appeal to them by taking part in these activities and endeavors with them, making her very appealing to the entire Dash family and she was photographed with them at least once as revealed by a picture Damon Dash published on Instagram on the anniversary of her death in 2014.
Prior to her death, she planned to start a clothing line with Kidada Jones called Dolly Pop. Aaliyah was a participant in the Tommy Hilfiger All American Tour and was featured in Tommy Jeans ads. Hilfiger's brother Andy commented on the look Aaliyah had at the time, that of a tube top, boxer shorts and baggy jeans, calling it "a whole new look" that was "classy but sexy".
Aaliyah allowed herself to be the subject of MTV's show Diary in July 2001 for the promotion of her third and final studio album. She voiced her content with the life she lived and her accomplishments. "Everything is worth it -- the hard work, the times when you're tired, the times when you are a bit sad. In the end, it's all worth it because it really makes me happy. I wouldn't trade it for anything else in the world. I've got good friends, a beautiful family and I've got a career. I thank God for his blessings every single chance I get."
Aaliyah gave her final interview on August 21, 2001 while making on appearance on BET's 106th and Park. She announced in the interview that filming for the music video for the single "Rock the Boat" would begin the following day. According to brother Rashad, this was the first and only time during Aaliyah's career that she was not in the presence of a family member as her brother was in Australia while her father cared for her mother, who had just finished having eye surgery. Over the next few days, Aaliyah shot the music video for the single. She first filmed scenes in Florida (the underwater shots of the video) before setting out for Abaco Island, The Bahamas. After finishing the filming early on August 25, 2001, Aaliyah and members of her production company boarded a Cessna 402, piloted by Luis Morales III.
Travel arrangements for the music video began a little more than a week prior to the crash. Based in Miami, Florida, where shooting for various parts of the video took place, served as flight broker, thereby arranging the travel. The other cargo and charter services which owned and operated the planes in use were coordinated by Atlantic Flight Group.
The plane had been scheduled to arrive at 4:30 p.m. but did actually appear until 6:15 p.m., nearly two hours late. Disputed accounts of an argument between him and the passengers of the plane have been claimed. Whether or not Aaliyah was part of the altercation is not known. Morales reportedly had difficulty starting an engine on the aircraft. The plane crashed shortly after takeoff. Aaliyah and six other passengers, including Morales, were all killed. According to ambulance drivers, Scott Galin survived the initial impact and spent his remaining hours worrying about Aaliyah's condition.
The New York Post printed the last photograph taken of Aaliyah before the crash, which was of her and a fan. The fan wanted the picture as a souvenir and was able to speak to Aaliyah for 15 minutes. She then hugged him. The fan had praised her for making a donation to charity recently and she explained that God "blessed" her with money and it was "time to give back."
Claude Sawyer witnessed the crash, seeing the plane go down while working on some machinery "about half a mile" away. According to Sawyer, the plane was only 60 to 100 feet off the ground before it crashed. He described the crash as pretty devastating and added, "The aircraft was broken into pieces and some of the seats were ejected from the aircraft."
An autopsy of Morales' body revealed traces of alcohol and cocaine in his system. The NTBS reported the weight was "substantially exceeded" as well as the center of gravity was positioned beyond its rear limit.
The investigation concluded that Aaliyah died from severe burns and a blow to the head. It was theorized that even if she had survived the crash, her recovery would have been nearly impossible. The plane was found to be overweight, carrying a single passenger that made the plane weigh more than it could bear.
The funeral home which prepared Aaliyah's body and the other victims of the crash accused Virgin Records of not paying the bill in August 2002. Butler's Funeral Home and Crematorium's Loretta Turner claimed that Virgin Record executives Ken and Nancy Berry had agreed to cover the expenses before leaving the label. Turner made contact with the lawyer for Aaliyah's parents, Robert Spragg. Spragg would say the record label also owed the Haughton family money for the cost of the funeral.
Aaliyah's body returned to the United States on August 28, 2001 in a private jet to the Newark International Airport in Newark, New Jersey. She was the first of the crash victims to return to the United States, the others arriving the day after on August 29.[12] Aaliyah's family was staying at the Trump International Hotel when her body was returned to the United States. They received condolences from grieving fans.
Prior to her death, Aaliyah had a dream where she predicted something bad would happen to her. "Someone's following me and I don't know why. I'm scared. Then suddenly I lift off. Far away. As if I'm swimming in the air. Nobody can reach me. Nobody can touch me." It is accepted that this was a prelude to the crash which had entered her subconscious.
Luis Morales III was learned to have received his pilot license in February 2000. From an early age, Morales was interested in aviation and was given his first rides at age 11 by his grandfather before receiving formal flight training at age 17 at the Isla Grande Flying School. He had been caught with cocaine in his car on August 7, 2001, weeks before the crash. Days after the crash, he was said by U.S. aviation officials to have been hired by Blackhawk International Airways just two days before the crash.
He was also not authorized to fly the plane for the operator by the Federal Aviation Administration. It was claimed by Gabriel Penagaricano who served as the lawyer for Morales' family during an interview with Christopher John Farley, author of Aaliyah: More Than a Woman, that any questions about the family's deceased relative's flight record were "the words of a fool." Penagaricano described Morales as a "young man, totally dedicated to his profession and had set his sights on flying for one of the major airlines. In the meantime, he was doing what everybody else of his age and experience does, which is to fly for a charter operator in order to build up flying time."
He was fired from Golden Airlines for having failed to appear at work. This was again added to the continuing media persona that was being geared to portray Morales as a negative figure who contributed to Aaliyah's death as an inadequate pilot.
Morales' father spoke following the accident, saying that he had talked with his son earlier in the month and the younger Morales had said he was doing something he was passionate about. Morales' sister days after the crash addressed her brother's role. "We are confident the investigation is not going to disclose anything that would involve negligence on behalf of my brother. He has vast experience flying planes. He had been doing it since he was 14. ... They are talking about a person who cannot defend himself."
The day of the crash was Morales' first day working for Blackhawk International Airways. Due to him not being registered to fly the plane, Aaliyah's parents brought a lawsuit against the company. The lawsuit was settled for an undisclosed amount. Barry & Sons, Inc. tried unsuccessfully to sue the video producer who booked the private jet. The decision by the Manhattan appeals court was initially allowing of Blackground Records suing since Aaliyah was not just an employee and was a primary asset of the company. This ruling was made in June 2004, but the ruling was reversed in January 2005.
Aaliyah's parents filed a lawsuit against Virgin Records in Los Angeles in May 2002, alleging negligence that resulted in the death of their daughter. Similar lawsuits were filed by the families of Eric Foreman and Anthony Dodd. In the lawsuit, it was claimed that the Cessna having a "dangerous and unsafe configuration" was the cause of the crash and the chart flight had been given the wrong plane in the form of the Cessna. In addition to Virgin Records, the lawsuit also named music video director Harold Williams, Instinct Productions, Big Dog House Films, Blackground Records LLC, Skystream and Blackhawk International Airways.
Her funeral was held on August 31, 2001. Several mourners joined her mother Diane in singing Aaliyah's song "One in a Million". The funeral was criticized by The New York Post for crowding a street and taking up space, as well as being too extravagant for someone such as herself, who the paper argued was not readily known. In both Aaliyah and the funeral's defense, the Reverend Al Sharpton defended it and questioned how one's life could be determined as not being as important as that of another.
Her brother Rashad Haughton delivered the eulogy. In it, he spoke directly to her, saying that while she had left he would see her "always next to" him and hoped that God could keep him strong until he saw her again. Sean Combs, Lil' Kim, Timbaland, Missy Elliott and Gladys Knight were in attendance to the funeral.
After the release of her second film in 2002, Queen of the Damned, Aaliyah's unreleased vocals were complied onto her first posthumous album, I Care 4 U. Some of the funds collected by the album were donated to the Aaliyah Memorial Fund.
In March 2012, Jeffrey Walker announced a second posthumous album being made from demos that she had recorded, as the originals had been lost. Rashad Haughton responded to the claim, saying "no official album [is] being released and supported by the Haughton family." She was featured on the song "Enough Said" with Drake in August 2012. On August 13, 2012, both Missy Elliott and Timbaland denied being contacted about the posthumous album. Missy Elliott expressed, "Tim and I carry Aaliyah with us everyday, like so many of the people who love her. She will always live in our hearts. We have nothing but love and respect for her memory and for her loved ones left behind still grieving her loss. They are always in our prayers."
Aaliyah was featured in the Chris Brown single "Don't Think They Know", singing the hook. The music video for the song featured holograms of Aaliyah. Collaborator Timbaland expressed distaste for both this single and "Enough Said", saying Aaliyah's music "only works with its soulmate, which is me". He would later apologize to Chris Brown for his remarks and explained Aaliyah and her death were a "very sensitive subject".
The posthumous album was confirmed by Noah "40" Shebib to have been shelved due to Drake's involvement being negatively received. He also said Aaliyah's mother saying she did not want the album out was enough for him to quickly step away from the project.
She was slated to appear on the track "Girlfriend" on the T-Pain mixtape The Hard Way, which was pulled after disapproval from fans.
Aaliyah's vocals from "One in a Million" were featured in the Tink single "Million". Timbaland revealed that he had unheard Aaliyah vocals in August 2015 and wrote that a sneak preview would be coming soon.
Aaliyah was said to have spoken to the Isley Brothers about a potential collaboration, as revealed by Ronald Isley in November 2001.
She was supposed to have a role in Sparkle, the Whitney Houston-produced remake of the 1976 film of the same name, released nearly three years before Aaliyah's birth. Houston spoke of Aaliyah's enthusiasm in 2011 and revealed the film was shelved after her death, Houston having believed that she was more than qualified for the role but had gone to a better place. The film was eventually released in 2012.
On January 16, 2014, what would have been Aaliyah's 35th birthday, images she had taken months prior to her death were released to the general public on the internet. They had previously been hidden.
On January 16, 2015, Aaliyah's 36th birthday, she was remembered by Hollywood Life, Legacy.com and The Urban Daily. That day on Tumblr, Frank Ocean posted his rendition of "At Your Best (You Are Love)", which Aaliyah had covered in 1994.[13]
Janet Jackson wrote a letter to Aaliyah on the 14th anniversary of her death, August 25, 2015, expressing that the two had a connection and that she knew Aaliyah was "there shining down on me."
In 2015, Xyrena started to sell an Aaliyah fragrance, which it stated on its website xyrena.com was made with collaboration from her brother and mother.
Aaliyah has been hailed as a pioneer of R&B and hip hop. One in a Million, her second album, became one of the most influential albums of the 1990s. Kelefah Sanneh of The New York Times argued that Aaliyah by 2001 had recorded "some of the most innovative and influential pop songs of the last five years."
Aaliyah has influenced a variety of artists including Beyoncé, Adele, Ciara, Monica, Chris Brown, Rihanna, Azealia Banks, Sevyn Streeter, Kelly Rowland and Solange Knowles. Rapper Drake said she had the biggest influence on his career. He is known to have a tattoo of her on his back. Solange Knowles said Aaliyah would never be forgotten.
Aaliyah's name was ranked by the United States Social Security Administration as one of the 100 most popular names for newborn girls. Aaliyah responded to this during an interview: "That's great. I've met a lot of people where they're like, 'You know, I named my daughter after you and could you sign an autograph to my daughter' and it's Aaliyah so yeah a lot of babies have been named after me which is an honor and sweet." In August 2003, Christian Dior donated profits from sales in honor of Aaliyah.
Her albums One in a Million and Aaliyah have been credited for helping redefine R&B and are some of the most influential R&B albums of all time.
There is ongoing discussion over what would have happened had Aaliyah survived her premature death. Some speculated she would be in the position of Beyoncé, who enjoyed success as an artist following Aaliyah's death. Others have viewed her as having reached her peak and had she lived, she would be in the same position as Brandy and Monica.
Critique has been made of the attention she has received since passing, similarly to the attention given to Michael Jackson following his death in 2009. One difference between Aaliyah and Michael Jackson was that Jackson had went through intense media coverage regarding his personal life as opposed to Aaliyah.
Collaborator Timbaland said Aaliyah would have been similar to Beyoncé had she lived. "I think she would have been Beyoncé status 'cause she was the first one who was doing all those things," He also stated that she would have been benefited by her movie roles, which in his view would add to her celebrity status.
T-Pain, following the upset over featuring Aaliyah on the track "Girlfriend", expressed that Aaliyah would be considered as copying Beyonce were she alive.
In June 2014, Lifetime announced its intent to release a biopic about the singer's life on television. The idea was disapproved of by her family, who believed she should have a film in theaters. The family did not allow Lifetime access of Aaliyah's recordings, requiring Lifetime to record covers of some of her songs. They released a press statement:






Disregarding the families and dishonoring the legacies of celebrated figures who have passed on, big networks want to exploit their stories for a buck. We're here to make it clear that it's not okay!

Lifetime Television is trying to dictate the status of our heroes, our heroines and – in this case – our beloved Aaliyah. We implore everyone to call Lifetime Television, send emails and bombard social media so they know we demand respect for our cultural icons.

We will not sit idly by while they misrepresent and reap profits from our luminaries. There is more at stake than the public could imagine."















Wendy Williams, who served as executive producer of the biopic, argued that television was a better source since people did not go to see films in theaters anymore and would prefer seeing it at their homes.
On July 18, 2014, it was announced that Alexandra Shipp had replaced Zendaya in the lead role of the biopic. Zendaya received criticism for being biracial while Aaliyah was African-American. Zendaya explained her reason for leaving as being due to her respect for Aaliyah and not wanting to do "anything that's half or anything that's less for her".[14] Zendaya explained her reasons for leaving the film after congratulating Shipp for landing the role.
"Let me just explain something. The reason why I chose not to do the Aaliyah movie had nothing to do with the haters or the people telling me I couldn't do it, I wasn't talented enough, or I wasn't black enough. The main reasons were the production value wasn't there, there were complications with the music rights, and I just felt like it wasn't being handled delicately considering the situation. And I tried my best to reach out to the family on my own, and I wrote a letter, but I was unable to do so therefore I felt not really morally okay with moving forward with the project."
The biopic drew further criticism when the casting for Timbaland and Missy Elliott were revealed the next month on August 9 due to the lighter skin tone of actress Chattrisse Dolabaille in relation to Missy Elliott. The film, Aaliyah: The Princess of R&B was released on November 15, 2014. Though given overwhelmingly negative reviews, Aaliyah: The Princess of R&B drew 3.2 million viewers on its premiere, making it the second highest rated television film of the year.
Alexandra Shipp spoke of Aaliyah's role in her own life; saying that she was often told by her mother that she would one day be as pretty as Aaliyah. She has also called the singer an influence of hers.
R. Kelly would later reveal his opinion towards the biopic months after its release in January 2015, criticizing it for not being realistic in its portrayal of him. Several commentators noted that while he was upset by this, he chose not to comment on his portrayal of marrying Aaliyah in the film and having a relationship with the underaged teen.
"Blow My High" by Kendrick Lamar: Throughout the song, Lamar refers to Aaliyah. It also samples "4 Page Letter". One line in the song is a possible reference to Aaliyah's debut single "Back and Forth".
"Glory" by Jay-Z: Mentions her and her death when warning his only child Blue Ivy Carter to exercise caution when she begins her career.
"Dreams" by Game: She is mentioned along with Left Eye and Martin Luther King, Jr. as having had a dream.
"Get You Mad" by Eminem: Aaliyah is referred to along with Brandy Norwood and Monica as having been Eminem's "main girls" prior to ending their relationships with him after the latter two walked in on him having intercourse with Aaliyah.
"MJB Da MVP" by Mary J Blige, Game and 50 Cent: Mary mentions Aaliyah in the line 'it was when Aaliyah died I couldn't hardly sleep' saying that Aaliyah's death made her change her ways and take a look at life.
Aaliyah's funeral was held on the seventh anniversary (August 31, 2001) of her alleged marriage to R. Kelly (August 31, 1994).
Drake was fifteen when Aaliyah passed away, the same age she was when she released her debut album.
Aaliyah never cited an influences as an actress. All known influences of Aaliyah inspired her as an artist.
Aaliyah's brother Rashad has said the pair were best friends while Kidada Jones was said to have been her best friend by sources.
Community content is available under
CC-BY-SA
unless otherwise noted.