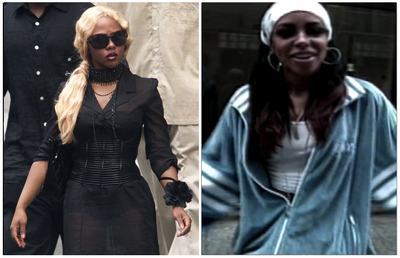 The friendship between Lil' Kim and Aaliyah developed during their careers. Lil' Kim collaborated with Aaliyah. They participated in taking photos for Elle Magazine in 1999 along with Missy Elliott and Da Brat.[1]
Lil' Kim called her crash "really devastating" and said she could never find anything bad to say about her. She attended Aaliyah's funeral on August 31, 2001. In November 2002, it was announced by MTV that she had traveled to Long Island City, New York to cameo in the music video for Aaliyah's single "Miss You".[2]
On the tenth anniversary of Aaliyah's death in 2011, Lil' Kim tweeted, referring to Aaliyah as her "sister". On what would have been Aaliyah's thirty-third birthday, January 16, 2012, Lil' Kim tweeted "#HappyBirthdayAaliyah my Angel!!!!! I Love U and Miss U So Much !!!!!!!!!!!!!!!!".[3] In a 2012 interview, two months after Lil' Kim's tweets for Aaliyah's birthday, she described her. "She was an angel. I never met a person in my life that has never gotten upset about anything. She had to be angelic. She was just a beautiful person. Inside, out, everything about her was just beautiful… She was just unexplainable."[4]
References
Edit
Community content is available under
CC-BY-SA
unless otherwise noted.