Marilyn Monroe

Born
June 1, 1926
Los Angeles, California
Occupations
Actress, singer, model
Marilyn Monroe was an American actress, singer and model. She became a major sex symbol during the 1950s and starred in several motion pictures throughout the decade and the early 1960s. She was born Norma Jeane Mortensen on June 1, 1926, her mother having lied on her birth certificate that her two previous children had died and her father's residence was not known.
She changed her name to Marilyn Monroe after becoming serious about becoming an actress, the name having been derived from her mother's maiden name and the first name of Marilyn Miller. Her personal life was just as notable as her film career, which included marriages to successful men such as baseball player Joe DiMaggio and playwright Arthur Miller.
Monroe wanted children, but would unfortunately have miscarriages and an ectopic pregnancy. She has been to have been in talks about remarrying DiMaggio prior to her death. She died on August 5, 1962 after a barbiturate overdose. She was buried three days later in the Westwood Village Memorial Park Cemetery in Los Angeles.
Aaliyah comparison
Edit
She and Aaliyah were compared in the 2014 documentary made about her life and aired on Lifetime in November 2014, the same day of the release of her biopic. It was said that Aailyah in her "Rock the Boat" music video gave off an appearance that was similar to Monroe in terms of beauty and sex appeal.
Similarities
Edit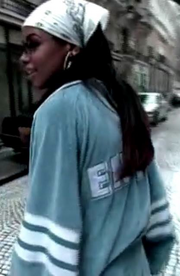 She and Aaliyah have several similarities:
They both were survived by an older sibling (Aaliyah's brother Rashad and Monroe's half-sister).
Both were said to have died young.
Their mothers outlived them.
Both wanted children, but either were stopped from having them by a condition or died before they could try. (Marilyn had several miscarriages and an ectopic pregnancy while Aaliyah said she wanted two children, but could not see her having them anytime soon due to her career taking off.)
They were both filming a movie at the time of their death that either required recasting or halted production of the film after they died. (Aaliyah was filming The Matrix Reloaded and The Matrix Revolutions back-to-back while Marilyn was completing Something's Got to Give.)
Both were said by their apparent final male spouses to have been informally engaged when they died. (Damon Dash claimed Aaliyah had plans to marry him while Joe DiMaggio said the pair were talking of remarrying.)
Community content is available under
CC-BY-SA
unless otherwise noted.